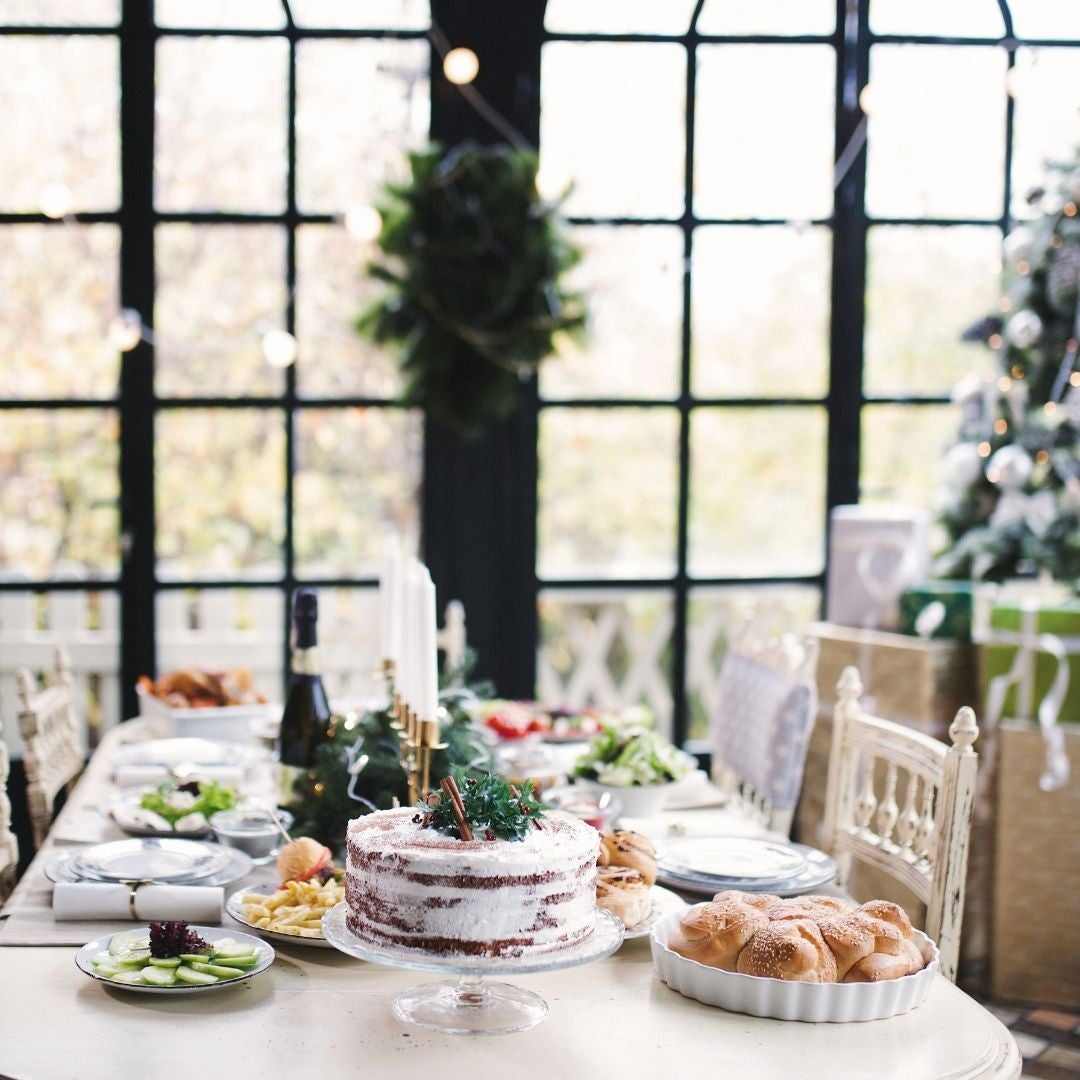 Christmas is a time of joy and giving and laughter, but it's also the time when we can get creative with
decorating. So here are some ways you can bring Christmas into every room in your home, to make it a winter wonderland.
Entryway
First, you'll put a wreath on the front door to invite your guests into your humble abode, but don't stop
there! Why not hang a garland around the doorway, and even tie plaid ribbons and bows to it or hang
nice ornaments from it. Beside the door, you can add cute mini trees in the planter of your choice, or
place ornaments or candles in a vintage lantern to add more Christmas to your entryway. But wait!
Don't forget about the inside! If you have a bench, place some Christmassy throw pillows and blankets
on it. Coat hooks? Hang stockings on them. Console table? Display Christmas cards, festive photos and
artwork, or even a little Christmas tree (or some festive flowers)! Staircase? Hang a garland on it. And on
the garland, you can add lights, hang bows, or even hang Christmas cards. Of course, you can also keep
it "au natural" too. With all these options, you'll have a beautiful Christmas entryway in no time!
Living Room
Now onto the living room. This is probably where you'll spend most of the time celebrating, so go all
out! First, set up your Christmas tree, whether it's artificial or real doesn't matter. Its still going to bring
in the Christmas spirit. There are many routes to take when decorating your tree: traditional, modern,
farmhouse chic, but no matter what way you choose, remember to have fun! Next, the mantle. You can
hang your stockings there, by the fire with care, and you can hang a garland too. If you want the scent of
Christmas floating in the air, you can hang some dried oranges and cinnamon sticks from the garland.
You can set up a cute little Christmas village on it or you could set up accessories, like snowman or
reindeer with some greenery and candles as well. Then get out your best Christmas throws and pillows.
Whether you opt for plaid, solid colours, or cute holiday sayings, they will most definitely enhance your
living room décor. Finally, let's get back to the tree. Instead of putting it in your traditional tree stand, try
putting it in a vintage planter pot or basket, and once its in the pot or the basket, you could place it on a
wooden sled. One more way to up your tree game is to put a sheepskin rug under it, serving as a tree
skirt, which would give the effect of freshly fallen snow!
Kitchen
For the kitchen, get out all your Christmas towels, dishcloths, mats, and dishes to put on display for
everyone to see. In your festive cookie jars, you could put ornaments, pinecones, or bake some delicious
cookies of course. On your festive cake stand, why not set up a cute Christmas scene. In the window,
you could hang wreaths or a garland, and on the door handles you could hang little ornaments. One last
fun idea for the kitchen is to make a hot chocolate "stand" with all the marsh mellows and candy canes
your heart desires!
Dining Room
The place where family and friends gather to share a Christmas meal: the dining room! So, it's crucial to
have a little Christmas there. For the centerpiece, you could make a nice greenery arrangement, with
pinecones and other festive nature items, or fill a fancy bowl with ornaments of your choice. You could
also mix them both and have a bowl with some ornaments and greens. Another fun idea is to create a
little village with houses, trees and maybe even some faux snow. For placemats, you could opt for
festive ones, plaid ones, or try something new and use thin slices of log to give a more natural feel. Now
that you've got your table sorted out, don't forget about the chairs. Try tying a ribbon around the
chair backs and then adding some winter foliage to the bow to add to the look!
Bedroom
You may forget about the bedroom when you're decorating, but there are many ways you can bring in
some Christmas cheer! You can start by putting on your favourite festive bedding, pillows, and throws.
Then, if you have a chair or bench, try setting a plaid blanket on it! You can add some signs and other
Christmas accessories here and there – on shelves, or on your nightstand. You could also put a mini-
Christmas tree on your nightstand too! And on the headboard of your bed, you could hang a garland if
you want. So, get your Christmas scented candles burning, and enjoy the holidays in your cozy Christmas
bedroom!
Bathroom

The last room to tackle is the bathroom. You can start by placing some candles on the counter and even
a Christmassy jar to put your toothbrush in. On your mirror, you try hanging a wreath, garland, or even a
big holiday bow. Don't forget to put up a new shower curtain, whether its just a simple Christmas
pattern, or a giant snowman – you do you! And on the shelves, you could have a festive display, with a
sign a decoration or two and towels. The last thing to do is to buy some Christmas scented soaps of
course!

We hope you enjoyed these ideas and hopefully they inspire your own unique ideas as well!

Merry Christmas and Happy Holidays from The Radcliffe Real Estate Team!